A Transsexual Man Dresses Himself
Yesterday I wrote to my newsletter friends how difficult I find it to excavate the joy beneath the shame I feel about my body. A friend responded I should photograph myself in my fancy threads and spread them all over the internet. Don't blame me for this posting idea. It's my friend's fault!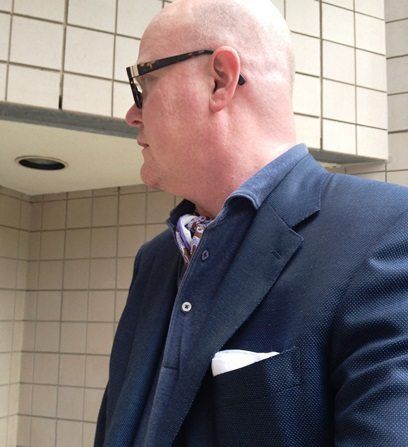 Variations in blue. Canali sportcoat, Italian polo shirt with an awesome super wide spread collar, Irish linen pocket square from a Suitable Wardrobe and a Drakes of London neckerchief from the 1930s archive.
Background for the Transsexual Man Dressing Himself
In my youthful imaginings of myself as a man, clothes - masculine clothing, men's clothing - figured as one of the two ways I knew I would be a man.  As a child my father worked for Montgomery Ward. Countless hours I spent in my room reviewing the men's clothing section. Recently I purchased a catalogue printed in 1969. Boy were my eyes opened. The clothing I thought so sauve seems now to put the YES in polyester.
You Spent What???
I've spent oodles of money on clothes over the last several years. Shopping never tires me. Changes in my hormone prescription with its concomitant changes in my body never tires me. The changes though run rough shod over my wallet, which, surprisingly, doesn't tire me, either. What I have done is cut out all other needless-for-me expenses and learned to shop sales.
My Dress Is About Respect
I spent more than the average non-transsexual man does on his clothing. For me my masculinity is so intertwined with clothing I can't imagine doing otherwise. In my defense, I wear what I buy, a lot. The most expensive clothes I've ever owned are ones I've never worn.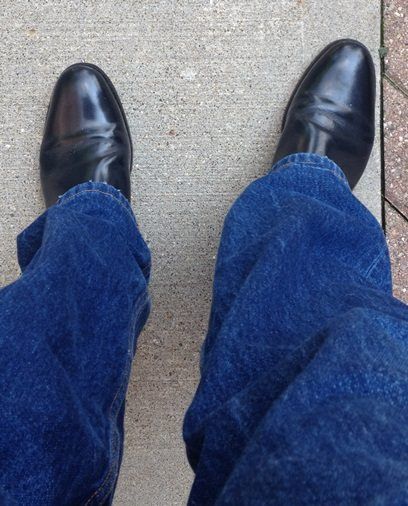 The shoes I bought at Barney's in NYC Christmas, 2008. They are comfortable as heck, and I have no idea who made them save a "Made in Italy" stamp on the inside of one boot. They are exclusive to Barney's.
Without embarrassment I can now say I am a devoted clothes horse. But my greater purpose in showing these pictures is to honor myself, my journey and my dear friends and family who honor and respect my decisions. For me dressing this way is an homage to all that I admire about masculinity and is a sign of respect and humility for this tenacious body of mine and my devoted family and friends.
 Blue Is the New Black
Blue variations is my theme today. I love blue and wear it in all its varieties and splendor. For me blue is always the new black.