Intentional Practice: Constrained Choices, or the Work Uniform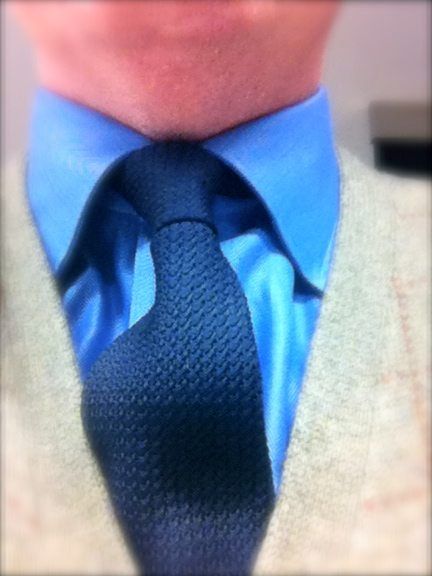 Tie: Grenadine by Drakes of London/Shirt: John Nordstrom/Sweater: Ralph Lauren
I've pondered constraining my clothing choices of late. In the act of preparing for my work day, I have spent anywhere from 10-20 minutes deciding what to wear. In part because I have a too colorful shirt collection, I don't have a truly multi-functional wardrobe.
Yesterday I changed all that. I bought five blue shirts: one french blue and four pale blue shirts. They have the same herringbone pattern and the same collar. My current body recomposition project (all weights all the time!), my now older shirt wardrobe no longer fit. My neck has grown so much that in some instances the collar ends were three-quarters of an inch apart.
Now that I have collars that I can close, I am going to explore wearing the same (save one) blue shirt every day and rotate ties, sweaters and jackets. My hope is that I will think less about my daily dress, look better and convey an image of consistency and reliability. This I am calling my work uniform.
What about you: how do you handle dressing and clothes?