Intentional Practice: Goodbye to All That iPhone Email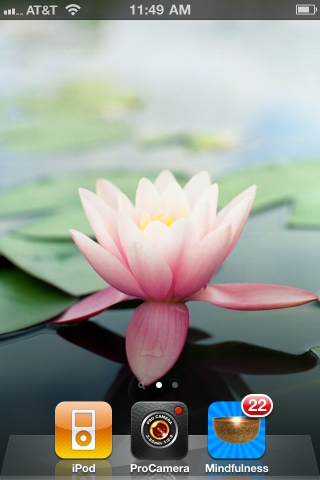 Activating 2-step verification for my gmail account as a result of reading about how one woman's gmail account got hacked (hat tip to Gwen Bell for the link) resulted in further refining my iPhone practice.
The iPod, proCamera and Mindfulness Bell apps are the ones I reach for the most. But that's only after I get my cultish fix of gmail. In the iPhone mail app, I just click on the envelope icon. Within seconds my new mail appears.
With Google's 2-step authentication, however, I can no longer just tap that envelope for my many-times-a-day hit of distraction. Google's process requires that I install the Google Authenticator, jump through some hoops and do a dance.
Glee filled my heart when I realized that I did not want to install the Google app on my iPhone. Then joy overwhelmed me when I understood that I wanted to be email-free on my iPhone.
So I intend to be email free on my iPhone henceforth. How will I use the time available to me as I withdraw from my iPhone email habit? I will practice returning to my breath using Spotlight Six Software's fantastic Mindfulness app.
That app is now on my Home screen. The Home screen photo above depicts a lotus flower. Native to Asia and Queensland Australia, the flower symbolizes non-attachment. This image serves as a reminder that my iPhone is a tool, not a destination.
Contemplating who I am when I am not digital. Who are you when you are not digital?