More FtM Blues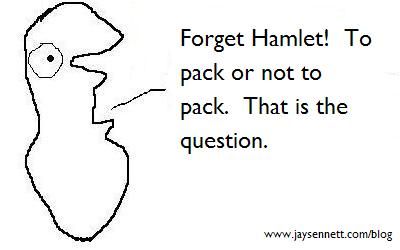 Indeed. In my tiny life, to pack or not to pack, haunts and sustains me.
As long as I can remember, I've obsessed about the size of my package. And I'm talking about nerf balls in my underpants in the third grade, too.
Despite my fascination with cyborg imagery, I shock myself when I call my various packing devices prosthetics. No, I say. Artificial legs, arms, eyes. Those are prosthetics.
My pink piece of cyberskin is, what? Me? A manifestation of a yearning?
I don't know. I guess I think I should know by now. After all I've been packing in some manner for about 30 years. Still I don't.
What I do know is that I haven't packed at all in the last few weeks. The worry about what others might think about my lacking package just sort of fell away.
Stuffing my underwear every morning feels like too much work. Too much not me. My package is tiny….a microbrand, if you will. ;-). That used to bum me out, radically. Now I just think it something true for me.
I am most suprised by how much my obsession is just so masculine/male/manly. Guess I'm not too different from alot of other guys. Each of us is left to decipher and decode the package of the penis/phallus/cock.
To pack or not to pack. To stuff or not to stuff. What matters is this: which choice represents the most compassionate act I can do for myself?