Wanted: Intuition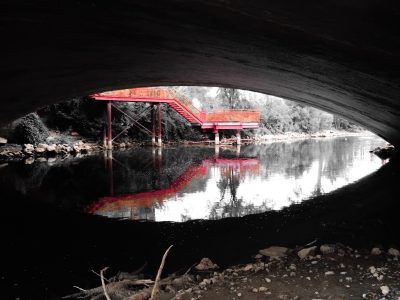 Today I plead with each you to follow your intuition. The voice that wakes you at 1:00 am and urges to write an important character sketch; or the urge to return to a just photographed spot and explore further.
On my bike ride home I had a flash of inspiration about some street art I had just shot. "Oh! I could shoot it from this angle."
"You can do it another time, add it to your never ending list of things to shoot."
Then: "What the heck? Why don't you go back? Ms. H. isn't waiting for you at home. You have no other obligations. Go! Isn't this time about pursuing your creative life no matter what?!? Go. Right. Now."
So I did and found the lovely moment above.  Inspiration is like a renewable resource, but with a hitch. If I don't renew it when it tells me to then it becomes nonrenewable.
Once delayed it becomes harder to access and less inspiring when it does arrive.
Right now I am writing this to you all as I prepare for a trip to Denver. I could have waited until my return, yes. But why wait?
Once this story is out, Inspiration will have another for me. But for that to happen I must renew it every day.
So must you.